The Middle East and North Africa (MENA)
Countries: Israel, UAE, Kuwait, Tunisia, Turkey, Algeria, Bahrain, Egypt, Qatar, Jordan, Mauritania, Morocco, Oman, Lebanon, Saudi Arabia, Iran, Syria, Iraq, Yemen
The MENA region has the largest overall gender gap in the world: 38.9%. In this region, many women face limitations of basic rights, including for divorce, inheritance, asset ownership, access to justice, and freedom of movement. Some statistics: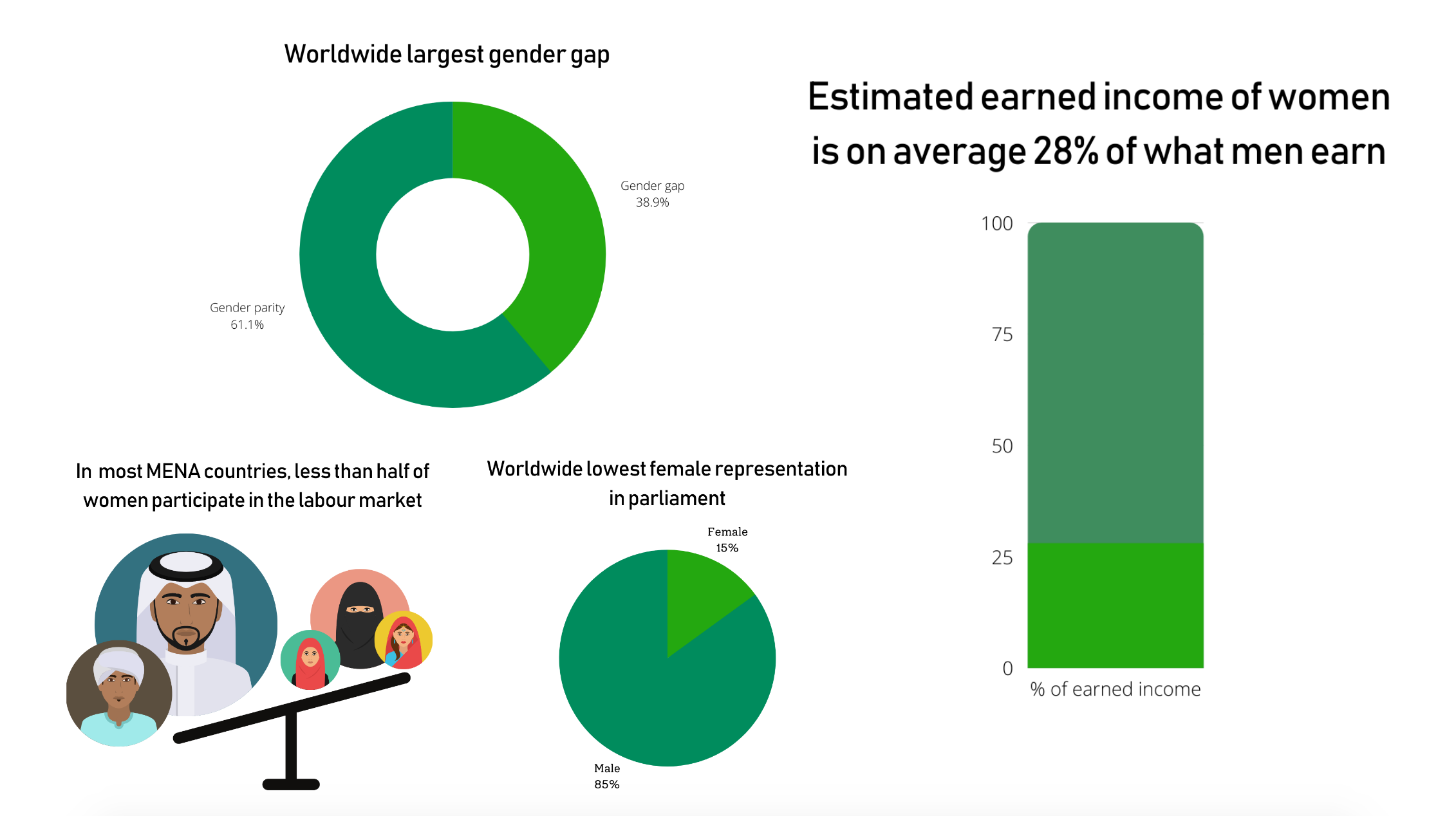 Experience of our team members
Our team members have relevant work experience in
Lebanon
and
Jordan
.
Jordan
Strengthening capacity of TVET teaching and management staff to enhance development and provision of curricula and programmes by TVETs and HEs in the Jordanian horticulture sector
Project description: The project combines the objectives of promotion of agriculture growth and sustainable & equitable water use. It concentrates on enhancing horticulture curricula and programmes of two TVETs and one higher education providers. The focus of the project is to strengthen the technical capacities of their teaching staff and management to successfully provide these courses and educate young people in the field of horticulture sector development and optimising water efficiency and wastewater re-use for irrigation. Curricula and courses will be strongly based on the needs in the horticulture labour market and gender sensitive.
Client: Nuffic, Q-Point as a part of the MSM consortium (OKP-JOR-30002).
Services rendered: Project coordination, value addition, value chain management, gender sensitive programme delivery, linkage private sector and gender mainstreaming.
Period: Oct 2019 - Dec 2021


Lebanon
Product Development focusing on job creation for youth and women
Project description: The Economic and Social Fund for Development (ESFD) strives to eliminate poverty, provide access to affordable and adequate social services, reduce unemployment, and advocate for a balanced, pro-poor, and equitable economic growth in Lebanon.
Client: CDP Lebanon (TMT Lebanon.17/10).
Services rendered: Training product and service development, tailored products for youth and women programmes, labour market needs assessment, project management.
Period: Mar 2018 - Nov 2018